This gorilla encounter was a bucket list check off that I never knew I had. Hiking through the wet terrain of the Impenetrable Forest with a machete to reach wild gorillas, was one of the best experiences of my life. I was at the tail end of bronchitis, slipped, fell, cried from exhaustion and by the end of our journey was completely covered in mud – but it was all worth it.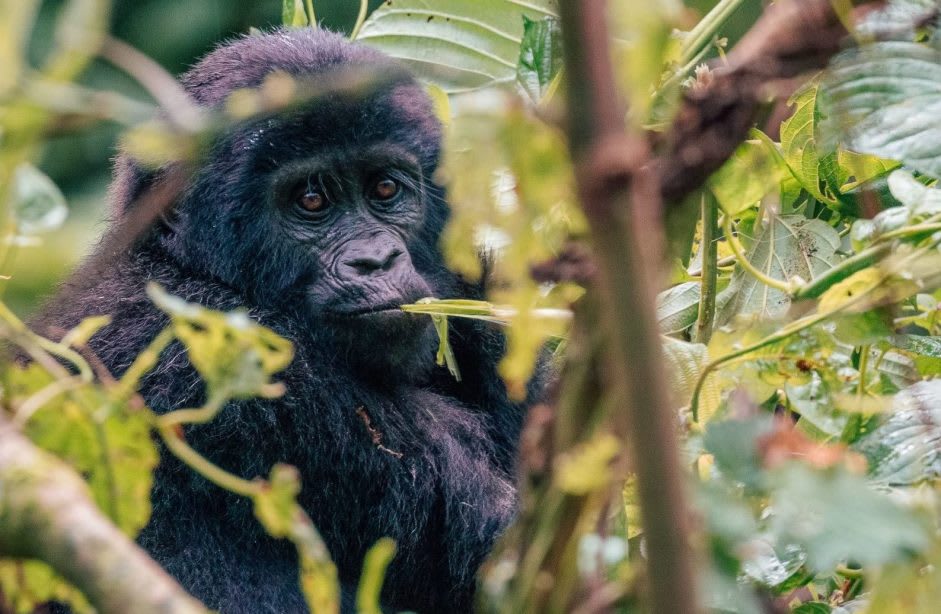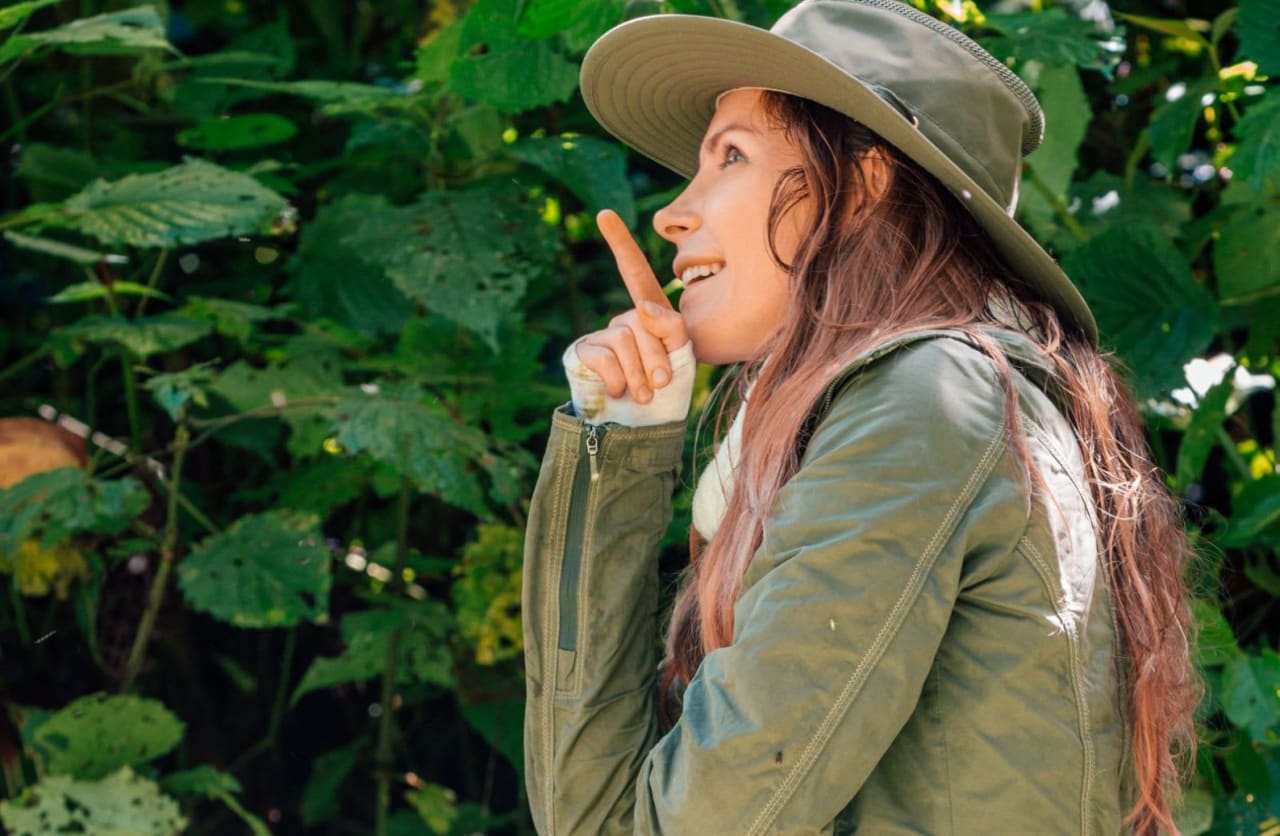 The two companies I used and highly recommend are for organizing everything and for accommodations.

Rwanda Gorilla organized the stay, the gorilla experience, and all park fees. This is a two-day trip we planned in-between two safaris (Kenya and Tanzania). The trip worked seamlessly. We were so glad we planned the gorilla trek as it was truly life changing.

The first step to get to the gorilla trek would be to get yourself to Kigali in Rwanda. Travel to Kigali is pretty easy using any inner-Africa airline. The African airline companies are great and were very beneficial while we were there. Kigali is a very hustling and bustling city. It is friendly to tourists, although, from my observation, there were not many of them – which I loved. Super touristy places are such a turn off even though I do visit a lot of them and also live in one! A location in Kigali I feel should be visited is the Kigali Genocide Memorial Center. This center really helps people to understand the heartbreak that this city saw in 1994 and how it has risen to become what it is today.

We were picked up in Kigali by David from Rwanda Gorilla and begun our drive (about 5-6 hours) to The Gorilla Safari Lodge in Uganda. The drive was one of my most favorite parts even though we had to deal with a pretty interesting border crossing situation leaving Rwanda and entering Uganda. The crossing was unorganized and chaotic, with lots of cars just stopping and blocking the road – but with David helping we all made it through.

We were in a large safari car (they hold two tanks of gas) with plenty of room and big windows. The villages we passed by were so cute with everyone seeming to have a purpose and a task. The little children smiled and waved as we drove by. The children anxiously wait to see if any of us tourists have something to give them. We were told by our driver David to bring candy, supplies, etc to the schools instead of giving items to them straight from the car. This way the children go to the schools to get the goods instead of being out alongside the roads.

The rural villages in Uganda usually comprised of small self-built homes and lots of farmland. Cows belong to the families, with the younger ones usually walking them to eat and keeping them in line. The more livestock owned, the better off the families. I loved seeing children playing outside, being in nature, and being able to do handy work that I couldn't think about doing. Its a far cry from this city-dweller, but it makes it all the more magical.

​​​​​​​Driving into the area near the forest where we were staying was truly breathtaking. I had never seen anything like it in my life. It was at that moment when I understood the meaning of the movie title based on Dian Fossey's life, Gorillas in the Mist. There is this mist that cascades over the tall terraced and farmed mountains, an ora, that is unlike anything I've ever experienced. It truly felt heavenly and was pretty emotional to experience. We had driven a long way, and now were getting close to the very beautiful, elusive, and highly endangered mountain gorillas.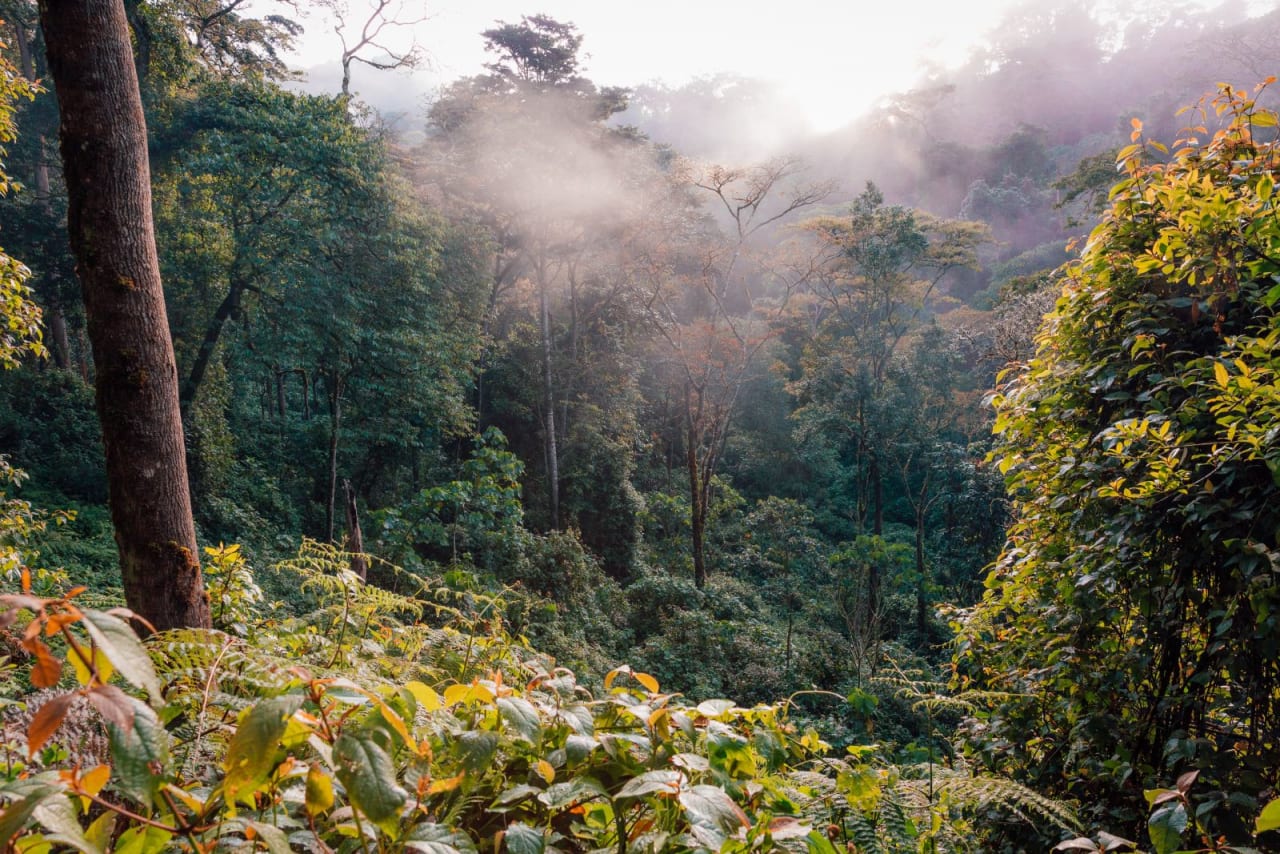 When we got to the Gorilla Safari lodge, it was perfect. The lodge was nice, and the staff was very friendly and welcoming. Everything was inclusive and services with add-ons that included massage and laundry. I soon learned that after the Gorilla Trek, these add-on services are much needed. The lodge also cleaned any clothing and shoes that were used on the hike at no cost! The dinners were great and the Lodge packed us lunches for the day of our trek. It was such a peaceful and beautiful place. Being tucked away in rural Uganda amongst small villages and schools and next to one of the most incredible Forests in the world is a memory I will never forget.

On the day of the trek, we met with park rangers who accompanied us on our Gorilla Trek. Two rangers came with us. One to be at the front of the group and one in the back. The rangers did in fact hold guns, but for this sole reason: If a gorilla were to get too close or charge, they would shoot the gun into the air and the sound would scare the gorilla away. They were brought as a scare tactic if needed, not with any intention of harming anyone. The rangers love the gorillas and are very protective of them. They urge neighboring villages to report any possible poachers or irregular activity. The local people are also paid for reporting any suspicious behavior which I thought was a kind gesture. Gorillas bring in a lot of tourism and money for the Ugandan economy and are highly endangered, so the people of Uganda really do their best to protect them.

​​​​​​​Along with the park rangers, we each (4 of us) had a porter. The porters charge between $20-25 for the day. The porters ended up being lifesavers. They didn't seem to get tired at all. They helped us when we slipped, carried out things when we were worn out, led the way through rough areas – all without breaking a sweat. You could tell this wasn't their first rodeo.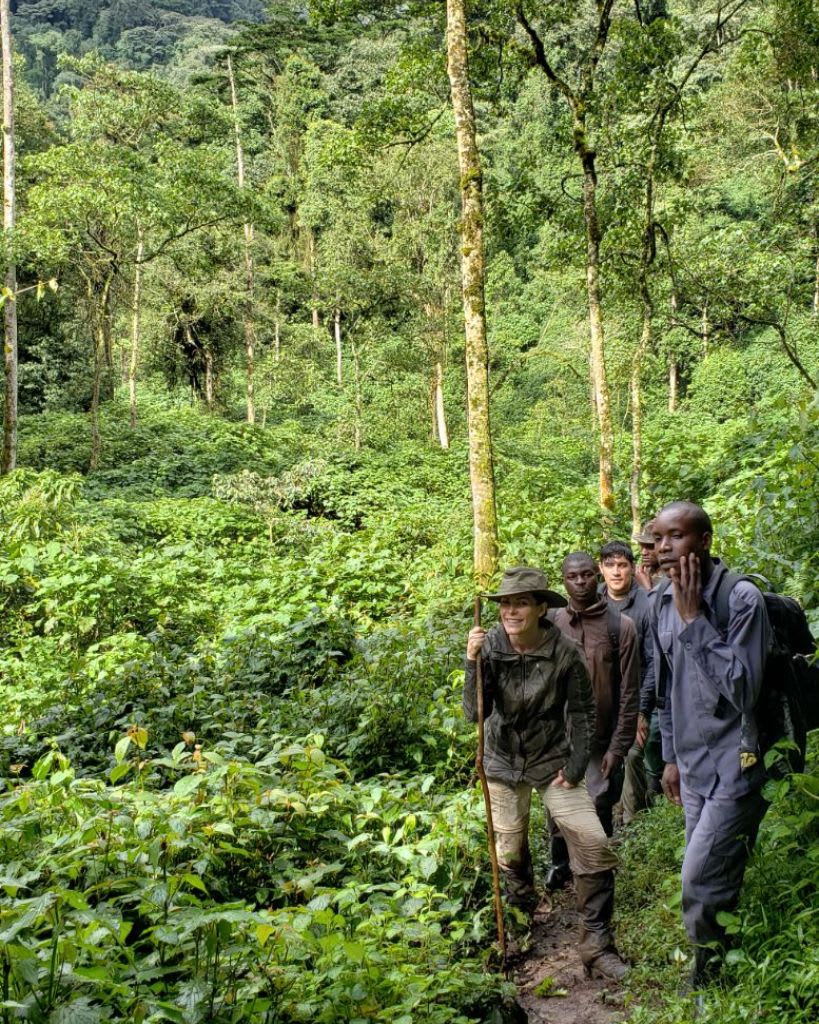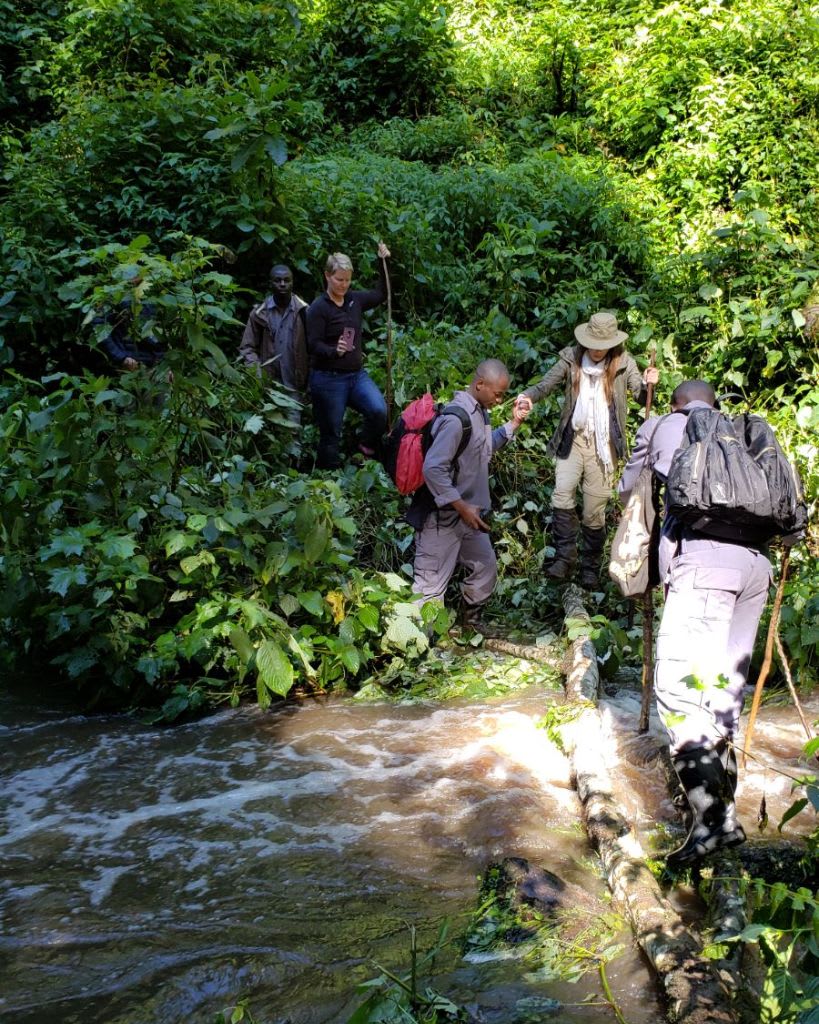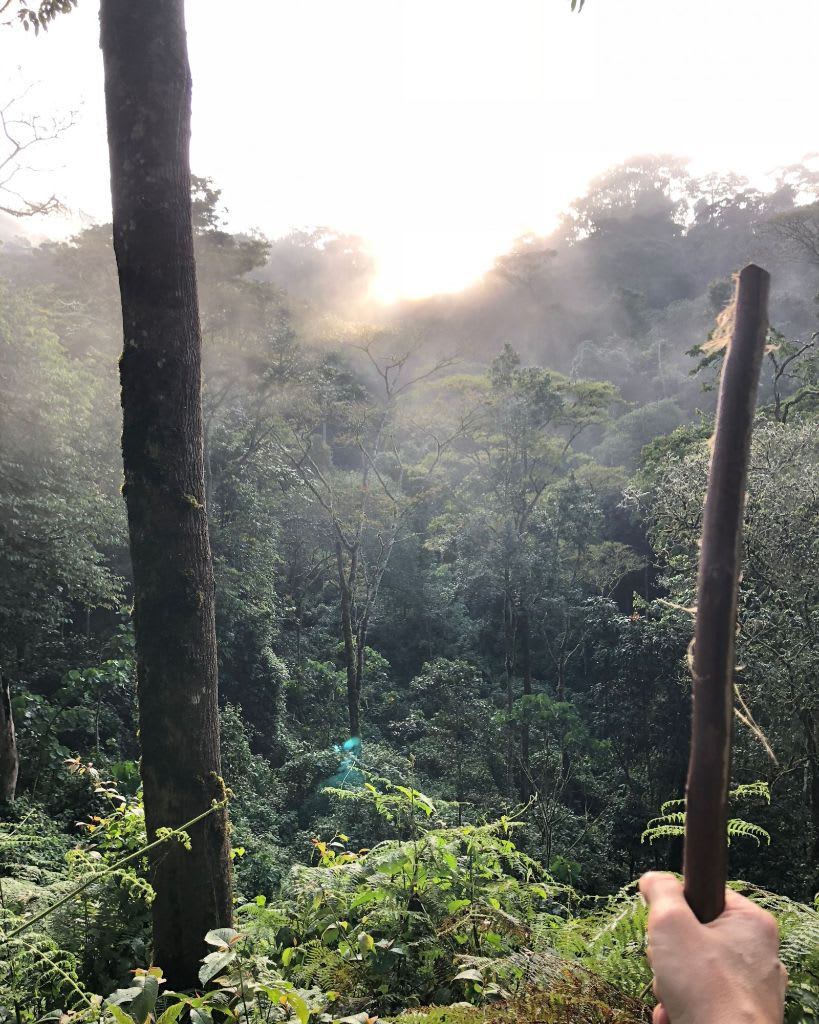 One of the rangers led the way with a machete, cutting through the Forrest to create new paths. Trackers were sent ahead to find the gorillas and lead us to their whereabouts. It took around 2-3 hours of hiking to come across our first group of gorillas.

The first gorilla we saw was a massive beautiful silverback gorilla in a tree. We watched him swing down from vines to lower himself to the ground. Once he was on the ground, my heart definitely skipped a beat being only feet away from such a strong and powerful animal.

We then saw the rest of the silverback's family. Some female (much smaller and less intimidating) gorillas and some young gorillas. They were so mesmerizing to watch. It was enjoyable to compare and contrast their behaviors with our own. Mostly, they love to eat. The closer to the band of gorillas, the more they noticed us. Some were weary while others didn't seem to mind all that much.

The specific visit we signed up for that day was called the gorilla habituation experience. This gave us four hours with the gorillas once we found them, helping them adjust and get accustomed to seeing humans,

Deeper into the forest, we came across a female gorilla the park rangers were familiar with. They had named after the company the people who originally spotted her were from. They mentioned to us that she has been used to seeing humans over the past two years. As we approached closer, she seemed to encourage the company. She just laid there playing with branches and leaves with her hands and mouth as she stared at us. We were entertainment to her and she was absolutely fascinating to us.

After our habituation experience, we hiked back to base camp and said farewell to all of the amazing people that helped us on the journey. The money we paid to enter the park all goes toward protecting the endangered gorillas.

It was a taxing day but well worth it. I definitely wouldn't recommend the journey to people who wouldn't be able to do a strenuous hike. To those who plan on experiencing the gorillas themselves, I defintely recommend wearing waterproof items as it tends to get pretty muddy on the trek. I wore some gators over my shoes that my buddies at gifted me and they were life-saving. I noticed the guides wore tall rainboots up to their knees. I think If I ever went again, I would wear those.

Only 880 mountain gorillas left in the world. The species is critically endangered but conservation efforts are being made to save them. My favorite gorilla organization, is an incredible group that is furthering the work of Dian Fossey. I am hoping that when the gorilla consensus comes around again, the number will be greater. These beautiful animals are definitely a must-see in person and all monies you pay for your experience go toward saving the gorillas.

​​​​​​​